Even with COVID-19 sweeping through the country like a bad nightmare on steroids, we are doing our best to continue efforts for the CRA. Located in the Texas panhandle, though a small chapter, we spend an extensive amount of time making a big mark on the community. When organizational programs, such as Adopt-A-Highway and Adopt-A-Soldier, are snuggled close to our hearts we, also, find passion in finding ways to serve the surrounding communities. We strive to exhibit an extreme amount of excitement in dedicating time to the CRA's mission statement. We are Chapter #28002 Potter County.
Adopt-A-Highway is a major priority to us. Between the Texas's scorching summer heat and the bitter, bone chilling (no matter how many layers you wear), winter wind that only seems to be found here in the panhandle, this program is a true testament to the dedication we all share. The rules of weather prevent us from completing a clean-up as often as we like, but we go every time we get an opportunity. Eric Dempsey and Mike Wood have even completed several clean-ups with just the two of them. We try to go above and beyond to make sure our section of highway is the cleanest in the Panhandle. TexDot, the local coordinators of the program, continue to express constant gratitude for our steady efforts and hard work.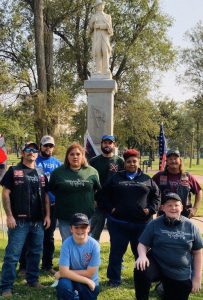 It's not all work for us. We find ourselves humbled to participate in the Adopt-A- Soldier program. We spend a considerable amount of time caring for our soldier's, and their family's (if any) grave sites. We use this time to slow down and pray. Send love and protection to, not only these soldiers and their families, but also the current soldiers and families that fight for us every day. It is our belief that our veterans should never be absent from our minds and we are always wishing good fortune to those who sacrifice the most to ensure our freedoms. Extra care is taken to the headstones, foot stones and surrounding areas. Making sure the grass is mowed and the trash is picked up, and offering help if needed is valued by our members.
Our community is incredibly important to all of us. We do the very best we can to show support wherever it is allowed. This last week, we visited our new Chief of Police. We congratulated him and expressed our devotion and support for our local police department. We are working on ways to earn donations for our local Ronald McDonald House which is dedicated to supporting sick children and their families. We are currently working on other ways to get a foot out in the community, such as reaching out to Habitat for Humanity. That idea was slammed to a screeching halt due to COVID, but hopefully news of our progress will be shared soon. Our common goal for these projects is to make a severe effort to show there are good people here and they are here to stay.
As everybody knows, our history is the single most important thing to everybody in our organization. Most spend a great deal energy to stand together with like-minded individuals protecting the monuments dedicated to the only time in U.S. history where our ancestors actually used the Declaration and Constitution for it's intended purpose. We do not fall short. Very recently, several of our members joined others from the community to protect a local monument that had fallen under attack.
The alleged attackers discovered, very quickly, that this was not the brightest idea. They didn't even get out of their cars, if they showed up at all. On this front, Eric Dempsey is our "travel guy." He fires up troops, where available, and makes appearances at other locations where monuments are threatened. He and a small group were in New Orleans, LA a few years back, when some monuments were under scrutiny and he, recently, joined another chapter, here in Texas, to help protect theirs. Boot and rally!
In our chapter, everybody has something to offer from knowledge to strength. We all do our best to put the right foot forward and extend a hand to anybody who needs it. We look forward to the future while we carry the past close to our hearts. Welcome to Potter County. We are Chapter #28002.